The latest issue of Joseph's Journey, the biannual newsletter of Joseph's Home, features an article about how several participants from the Cleveland Bridge Builders program spent several months evaluating the work environment at Joseph's Home and then making recommendations to help enhance efforts to retain, develop and recruit a diverse staff.
Below is the text from the cover story. Read the complete Joseph's Journey newsletter here.
Cleveland Bridge Builders Chooses Joseph's Home for Leadership Project

In November 2020, Cleveland Bridge Builders selected Joseph's Home as one of six nonprofit organizations to support with a Leadership Action Project. A team of professionals participating in the career-building program spent several months evaluating the work environment at Joseph's Home. Their objective was to help enhance efforts to retain, develop, recruit and promote a diverse staff, and to make recommendations for achieving the goal of providing a more supportive, enjoyable workplace and a more equitable organizational culture.
Cleveland Bridge Builders (CBB), which is part of the Cleveland Leadership Center, is a launch pad for mid-career professionals that prepares them for a greater role in the community by fostering teamwork, growth and learning. Leadership Action Projects (LAP) serve as a team-based learning lab where professionals can apply newly learned skills and approaches to collaborative leadership to assist a local community organization, like Joseph's Home.
The CBB team primarily focused on two employee positions that provide incredibly valuable direct client service—resident support associates and peer recovery specialists. These positions have the potential for high rates of burnout, which can result in greater turnover, position vacancies and an overworked staff. Joseph's Home also has a diverse staff, including people of color, older adults and people with lived experience of homelessness, behavioral health issues and/or substance use issues. This results in unique strengths in service delivery, but can also create unique challenges.
With all of these challenges in mind, the team from CBB embarked on a several month collaboration with Joseph's Home leadership. Working closely with Executive Director Beth Graham and Operations Coordinator Al Gibson, the group gathered general data to learn more about Joseph's Home; gathered internal documents, such as job descriptions and annual budget information; interviewed staff and leadership to understand the challenges that may impact different roles at Joseph's Home; met with leadership of external organizations that provide similar services to the population experiencing homelessness; and spoke to representatives from College Now and Towards Employment to discuss potential opportunities to create a partnership to help current employees reach employment goals
within Joseph's Home.
The LAP project resulted in a written report and presentation to the Joseph's Home Board of Directors and staff recommending short-, intermediate- and longer-term steps that Joseph's Home could take to ensure that direct service staff feel valued and to maintain a full staff that is well trained and supported with their career goals. The recommendations included:
Hiring practices
Compensation and benefits
Emotional support and stress management
Staff appreciation and transparency
Professional development and training
Career advancement
Joseph's Home has started to implement several recommendations. Already, there is a Joseph's Home staff member participating in the College Now program with the goal to obtain an Associate of Applied Science Degree in Human Services. In addition, the leadership of Joseph's Home decided to establish a minimum base wage of $15 an hour so that all staff of Joseph's Home, and soon, Mary's Home, earn a living wage. With the MetroHealth Center for Resilience, Joseph's Home staff will build their own resilience to primary and secondary trauma they may experience through their direct service work. Other items under consideration include modifying tuition reimbursement to tuition assistance, establishing a safe place for staff to take a break during the workday and more.
"Having this kind of expertise at no cost is a wonderful gift. We are grateful that Cleveland Bridge Builders chose us as one of only a handful of nonprofits to receive their contribution of time and talent," said Joseph's Home Executive Director Beth Graham.
Through the course of their project, the LAP group found that Joseph's Home is a valuable and unique asset to the community, providing a much-needed service for people experiencing homelessness. In order to best provide this service and in alignment with a commitment to diversity, equity and inclusion, Joseph's Home leadership is dedicated to caring for its staff so they may best serve residents and alumni.
"Our LAP project team was honored to work with Joseph's Home leadership and staff," said Erin Gay Miyoshi, Ursuline College director of development and 2021 Cleveland Bridge Builders class member. "This project really opened our eyes to the important role that Joseph's Home fills in assisting some of the most vulnerable members of our community with a path toward housing stability. During our interviews, the biggest takeaway was how dedicated the staff is to the mission."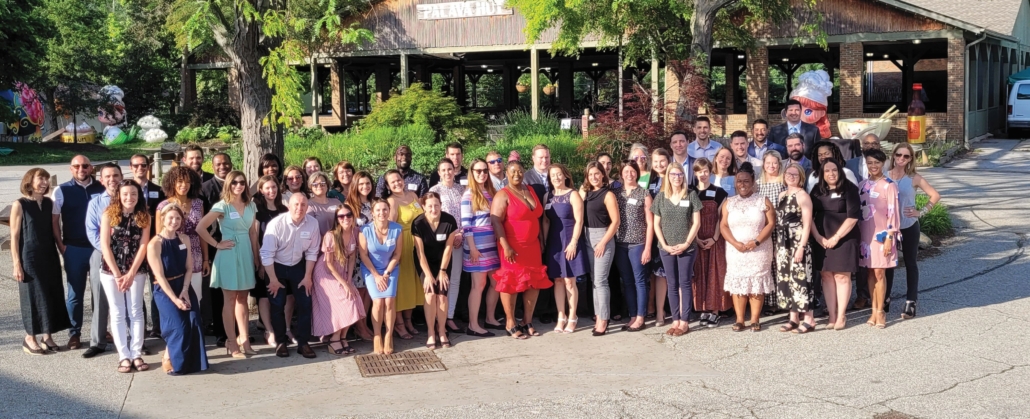 https://jmhome.org/wp-content/uploads/2021/10/JH21.6_FallNews_Cover.jpg
792
612
josephshome
https://jmhome.org/wp-content/uploads/2022/09/Logo-for-website-300x87.png
josephshome
2022-01-07 15:26:30
2022-01-07 15:28:12
Cleveland Bridge Builders chooses Joseph's Home for leadership project