Joseph's Home Awarded Community West Foundation Grant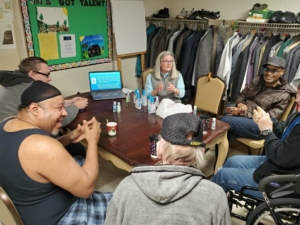 Cleveland, OH (April 3, 2020) – Joseph's Home has been awarded a $6,000 grant from Community West Foundation, increasing this year's total support from the foundation to $38,000. Since awarding its first grant to Joseph's Home in 2007, Community West Foundation has provided more than $334,000 to assist medically-fragile men experiencing homelessness in Northeast Ohio.
"We are grateful for our long-standing partnership with Community West Foundation," said Beth Graham, executive director of Joseph's Home. "The foundation's support has been critical to our efforts to assist some of our community's most vulnerable regain their health and housing stability."
Community West Foundation is dedicated to supporting organizations that provide the basic needs of food, clothing, shelter and medical care in the greater Cleveland area.  The foundation staff and board of directors are guided by the words of Matthew 25;40, "Truly I tell you, whatever you did for one of the least of these brothers and sisters of mine, you did for me."
"We are proud to support the life-saving service that Joseph's Home provides to homeless men in our community," said Marty Uhle, President and CEO of Community West Foundation. Joseph's Home is the only short-term medical respite facility in Northeast Ohio exclusively focused on providing medically-fragile men experiencing homelessness the opportunity to access quality care provided by licensed clinicians, nutritious meals and other supportive services, with the goal of helping residents transition into permanent housing. Joseph's Home's medical respite model fills a service gap between hospitals and shelters by providing care to those experiencing homelessness and who are ready to be discharged from the hospital, but are too frail to recover on the streets or in traditional shelters.
"Joseph's Home disrupts the tragic cycle of shelters, emergency rooms and the streets for our community's most vulnerable citizens," said Beth Graham, executive director of Joseph's Home.  "At Joseph's Home, we offer the care people need for their acute conditions, connecting them to appropriate ongoing healthcare and working with our housing partners to obtain a stable, permanent home."
Community West Foundation
Community West Foundation is dedicated to supporting organizations that provide the basic needs of food, clothing, shelter, and medical care in the greater Cleveland area. Originally known as the Fairview/Lutheran Foundation, Community West has been supporting these Cleveland Clinic hospitals as well as many community non-profit agencies through grantmaking since 1997. Under the guidance of the Board of Directors, Community West has grown its giving exponentially over the past 20 years. In 2019, Community West distributed $7M in grants. For more information, visit communitywestfoundation.org